Dreiklangs-Dimensionen
(Austellungsraum EULENGASSE)
05/2023:
Group exhibition with Kerstin Lichtblau and Matthias Rudolph
"Dreiklangs-Dimensionen",
Ausstellungsraum EULENGASSE, Frankfurt/Main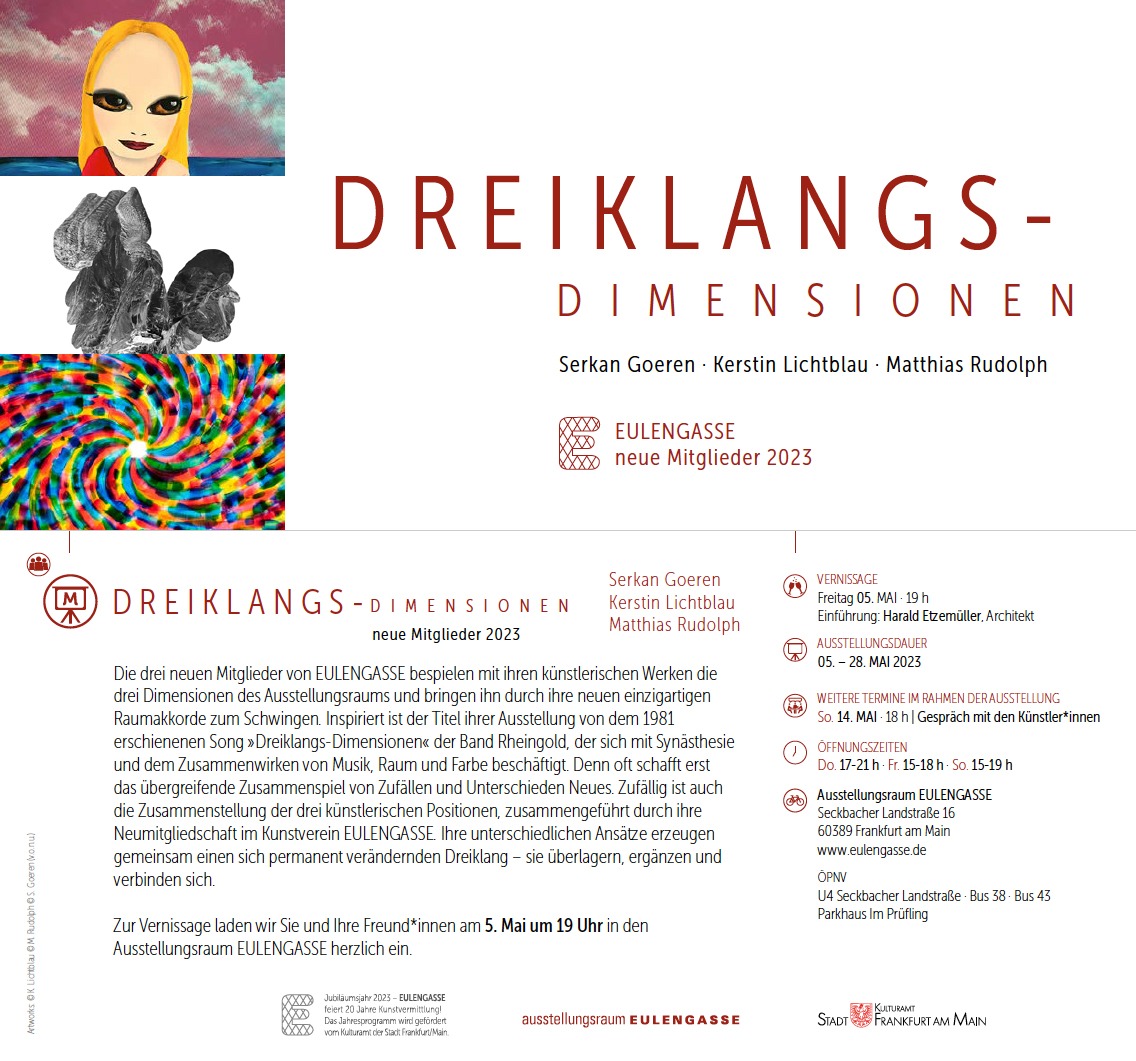 Press release for the exhibition
(german only)
Die drei neuen Mitglieder der EULENGASSE bespielen mit ihren künstlerischen Werken die drei Dimensionen des Ausstellungsraums und bringen ihn durch ihre neuen einzigartigen Raumakkorde zum Schwingen, Inspiriert ist der Titel ihrer Ausstellung von dem 1981 erschienenen Song Dreiklangs-Dimensionen der Band Rheingold, der sich mit Synästhesie und dem Zusammenwirken von Musik, Raum und Farbe beschäftigt. Denn oft schafft erst das übergreifende Zusammenspiel von Zufällen und Unterschieden Neues. Zufällig ist auch die Zusammenstellung der drei unterschiedlichen künstlerischen Positionen, zusammengeführt durch ihre Neumitgliedschaft im Kunstverein EULENGASSE. Ihre unterschiedlichen Ansätze erzeugen gemeinsam einen sich permanent veränderten Dreiklang - sie überlagern sich, ergänzen sich und verbinden sich.
Invitational video for the exhibition "Dreiklangs-Dimensionen"
made by Serkan Goeren
Impressions of the exhibition
Dreiklangs-Dimensionen
(Photos: Sofia Plastargia)